Let every nation know, whether it wishes us well or ill, that we shall pay any price, bear any burden, meet any hardship, support any friend, oppose any foe, to assure the survival and success of liberty.
John F. Kennedy (1917-1963)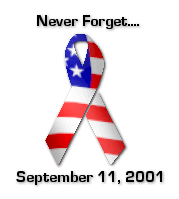 On the morning of September 11, 2001, America was shaken by a multitude of tragic attacks in which thousands of innocent civilians perished. It was a day of senselss violence, unimagineable horror and great sadness that will never be forgotten.
This memorial is dedicated to the memories of those who perished...

Please sign our guestbook before leaving. On September 11, 2002, I will print out each page of the September 11th website including the guestbook. I am counting on some type of memorial site being built in honor of all who lost their lives (I live in Oklahoma City, and we have a museum on the grounds of the Murrah Building Site Memorial). After all pages are printed I will mail them to the Memorial Organization for inclusion in the museum.

Sign today and let your words be heard by America.

September 11th is newly online September 23, 2001. We welcome visitor submissions to our site in memory of all those affected by this tragedy. Please email submissions to: america_healing@yahoo.com
Visit September 11th's Discussion Page to read and submit postings on our message board. Read daily scriptures, poems, words of sympathy, America Pride, and leave your own words to share with others.
Did You Know Someone...
Do you know anyone that lost their life on September 11, 2001?